The Coastal Bend 2021 Summer Blood Drive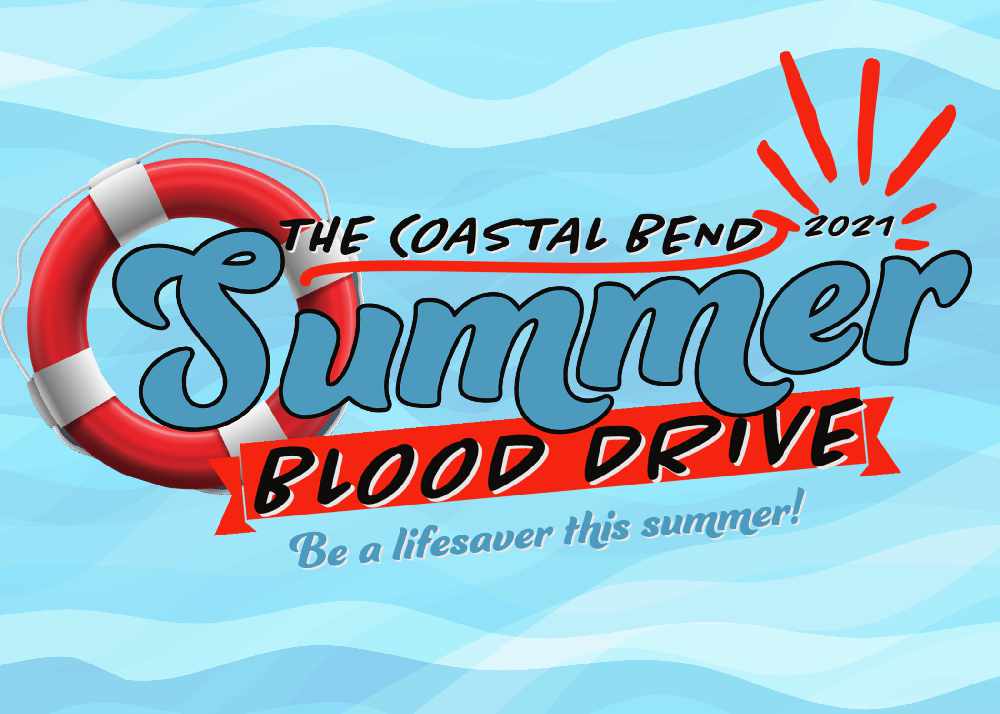 Give blood during I-C-A Radio's Coastal Bend Summer Blood Drive,
May 24th – 30th
1 in 7 people entering a hospital need blood. Together, we can guarantee it's there when they need it. Help us reach our goal of 1,500 pints for the Coastal Bend Blood Center.
Donors get a free t-shirt, goodie bag, and will be registered to win hundreds of prizes!
With bloodmobiles all over South Texas, it's fast and easy to set an appointment and give blood.
Pick your location below - and schedule your appointment today!
MONDAY
CITY OF ARANSAS PASS (12-6) : https://bit.ly/2ODGEEa
HARDKNOCKS - PORTLAND (12-6) : https://bit.ly/3wHq8V3
WALMART - BEEVILLE (3-7) : https://bit.ly/325LcX7
LA PALMERA MALL (12-6) : https://bit.ly/3mBqLea
KOHL'S (12–6): https://bit.ly/2R69SwF
TUESDAY
WALMART- 5POINTS (2 - 4:30): https://bit.ly/3sb3Wik
LA PALMERA MALL (12-6) : https://bit.ly/3tekF5K
CRUNCH FITNESS (3-7): https://bit.ly/3elspOi
WEDNESDAY
LA PALMERA MALL (12-6) : https://bit.ly/3a2lZ4o
MATTRESS FIRM (12-6) : https://bit.ly/3sgI7xT
AARON'S (12-6) : https://bit.ly/3a1DnG7
THURSDAY
HARDKNOCKS - ISLAND (12-6) : https://bit.ly/3b4jPla
CAMPER CLINIC - ROCKPORT (11-6) : https://bit.ly/3mEnTND
GOLDS GYM (12-6) : https://bit.ly/3d6ETcb
LA PALMERA MALL (12-6) : https://bit.ly/3wRjwDq
FRIDAY
COASTLIFE CREDIT UNION (3-7) (LOCATION – TROJAN DR.) : https://bit.ly/3aqSucE
PHARAOH'S JEWELERS (3-7) : https://bit.ly/32tlSdM
LA PALMERA (12-6) : https://bit.ly/3a0kWBV
WALMART - ALICE (1 – 6PM) : https://bit.ly/3h5MPga
YOUR HAPPY JOINT (6:30 – 8:30 PM) : https://bit.ly/3tmvLoG
SATURDAY
WALMART - 5POINTS (10-4) : https://bit.ly/3uNkj6q
WALMART - BEEVILLE (10-4) : https://bit.ly/2Rl4eqe
WALMART - ROCKPORT (10-4) : https://bit.ly/3g3ParB
LA PALMERA MALL (12-6) : https://bit.ly/2POnNHl
SUNDAY
WALMART - KINGSVILLE (9-3) : https://bit.ly/2OFDaB6
LA PALMERA MALL (10-4) : https://bit.ly/3mGVTZR